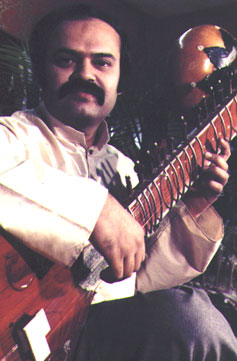 Sitarist Ashwin Batish
Biography
---
Composer, Performer, Teacher of Music, Recording Artist
Speciality
Sitar and Tabla
Education
Training in North Indian classical music from his father Pandit Shiv Dayal Batish
Teaching
Recent Positions:
Master Instructor - Batish Institute of Music & Fine Arts, Santa Cruz, California.

Previous Positions:
Music Faculty San Jose State University - East/West Fusion.
Guest Lecturer - Mills College, Oakland, California.
University of California, Santa Cruz. Cabrillo College, California.
Recording Artist
Batish Records, California, U.S.A.
Discography
Solo Works
Educational Works
Music Videos
Performances
Winnipeg Folk Festival, Canada
Vancouver Folk Festival, Canada
Montreal Jazz Festival, Canada
Earthsong Festival, Hamilton, Canada
Womad Festival, Toronto, Canada
Oxfam Worldfest, California, USA
World Music Festival, Michigan, USA
Quebec International Music Festival, Canada
Nassau Community College Folk Festival, New York
Worldbeat Festival, Ottawa, Canada
National Arts Center, Ottawa, Canada
Club Nu, Miami, Florida
New Jazz Festival, Moers, Germany
---
copyright ©1995 - 2003 Batish Institute. All rights reserved. Intended For Personal Use Only. No part of the information here may be reproduced or utilized in any form or by any means, electronic or mechanical, including photocopying and recording, or by any information and storage retrieval system, without specific written permission from the Batish family.