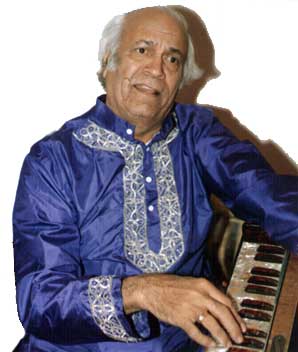 Our Founders:
S. D. Batish
Pandit Shiv Dayal Batish is the founder of this institute and he is our teacher. He has been active on the Indian music scene as a vocalist in North Indian classical, folk, and filmi music for over 65 years! He is also a multi instrumentalist well versed in the art of playing the vichitra veena, sitar, violin, harmonium, dilruba, sarodini veena, dholak, tabla and anythin else he puts his mind to. He has given music for numerous films in India and the West
Ashwin Batish
Ashwin's study of indian music started at a very early age when he learned Dholak from his mother Smt.Shanta Devi Batish and would accompany her to keertans. His interests moved to the swarmandal which he would play with a slide. At age 12, he started learning the tabla from his father and soon after at 14 years of age his interests turned towards the sitar. He is the webmaster, content writer and editor of all the Batish related web sites and is instrumental in producing all of his father's books, CDs, videos etc.
Meena Batish
Meena's musical education began at age 10 with her study of the Kathak dance form. But she is naturally gifted with a phenomenal voice and was frequently requested to sing at many get togethers and functions in India. She has studied many bhajans, geets, ghazals from her father and also loves to sing the popular filmi songs.
Finally, here is the completeBatish family team. . Without this togetherness none of this would be possible. Learn a bit more our goals, ambitions, our musical background, etc.
Learning Music of India
The Batish Institute Indian music activity started in the U.S. started around 1970. These music archives will direct you to our learning centers on the Internet where we have stored our music and arts information. New information is added daily. Please visit often and, if you can, we would appreciate a link from your site to this page.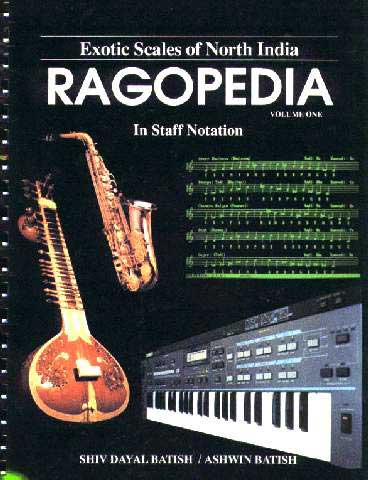 Ragopedia:
This book contains over 650 ragas of North India and is a great reference manual. It's written by Pandit Shiv Dayal Batish and Shri Ashwin Batish.
"My goal was to create a global awareness of Indian music. Hence I have fused the writing process with the best of Indian Sargam) and Western (Staff) notations so as to make this work easily comprehensible to both cultures, while teaching the ways of East to the West and vice versa. All ragas are listed alphabetically so you may find them quickly in the book. It is spiral bound so that you may spread it conveniently over the instrument of your choice. With this book, you are updated with almost all popular Raga forms currently in use in the North Indian music system. In the words of the French philosopher Chateaubriand "As soon as a true thought has entered our mind, it guides a light which makes us see a crowd of other objects which we have never perceived before". Let this quotation encourage you to open the pages of Ragopedia™ as regularly and as frequently as time may allow, and inspire your genius with glorious creative ideas."
Pandit Shiv Dayal Batish To buy the book and its accompanying CD / cassette please click here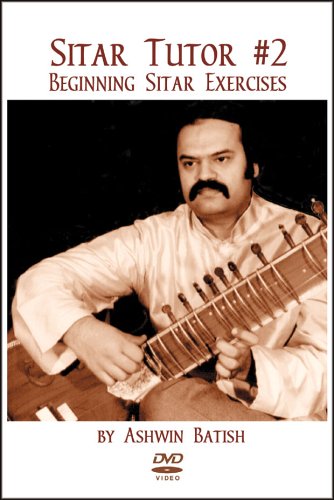 Video Tutors:
Learning Indian music through instructional videos is now possible. We have DVDs on how to learn the sitar, tabla, dholak, dilruba, harmonium, tanpura and we are constantly working hard on new releases. The Vichitra Veena tutor finally made it out of the door. It's a real classic considering that this is a rare and quickly disappearing instrument and art. We encourage everyone to keep the tradition alive. Recommend it to all your musically interested colleagues and schools and libraries. This one will need a lot of pushing to get it some good homes! Presently we are also working hard on releasing the Dholak Tutor, Sitar #3, and tabla tutor #3.
RagaNet
RagaNet is the creation of Ashwin Batish. It is dedicated to educating its readers on the music and fine arts of India. Here you will also find lessons on the sitar, tabla, on history of Indian music, raga theory, learning ragas. Midi, and mp3 files are included where necessary. New pages are being created daily.
Indian Musical Instruments
Learn about the various musical instrument of India. We hope to make this one of the most comprehensive collections on the web. Your additions and suggestions are always welcome.
Indian Music Glossary
Learn about an Indian music term. This glossary is not complete yet but hopefully it will keep getting closer to completion as we try to update its contents. We also have plans to split this to specialty glossary subgroups at a later date.
Indian Music Bibliographies
Our goal is to make this a complete reference to all the major educational Indian music works be they book, videos, CDs, tapes or online articles. Some bibliographies on North Indian music works, South Indian music works, the Sitar and the tabla are presently online. We are adding new titles and would appreciate any input and help

We recommend you keep checking our New and upcoming Releases page. It is designed to inform you of our latest additions to our catalog. Our concert schedule is listed here. Here is one that will be one of the largest collected information on musical instrument of India
Ragmala TV
Click here for the Batish Records Catalog
Welcome to Ragmala TV. I will be putting up a schedule of live broadcasts so keep checking this space. Press the arrow on the image to listen to our live streaming broadcast. This site is dedicated to the memory of my father Pandit Shiv Dayal Batish (1914-2006)