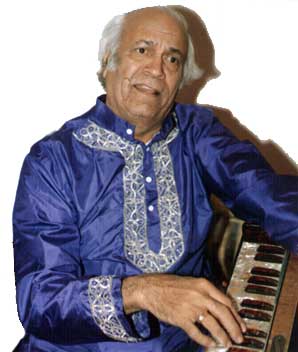 Our Founders:
S. D. Batish
Pandit Shiv Dayal Batish is the founder of this institute and he is our teacher. He has been active on the Indian music scene as a vocalist in North Indian classical, folk, and filmi music for over 65 years! He is also a multi instrumentalist well versed in the art of playing the vichitra veena, sitar, violin, harmonium, dilruba, sarodini veena, dholak, tabla and anythin else he puts his mind to. He has given music for numerous films in India and the West
Ashwin Batish
Ashwin's study of indian music started at a very early age when he learned Dholak from his mother Smt.Shanta Devi Batish and would accompany her to keertans. His interests moved to the swarmandal which he would play with a slide. At age 12, he started learning the tabla from his father and soon after at 14 years of age his interests turned towards the sitar. He is the webmaster, content writer and editor of all the Batish related web sites and is instrumental in producing all of his father's books, CDs, videos etc.
Meena Batish
Meena's musical education began at age 10 with her study of the Kathak dance form. But she is naturally gifted with a phenomenal voice and was frequently requested to sing at many get togethers and functions in India. She has studied many bhajans, geets, ghazals from her father and also loves to sing the popular filmi songs.
Finally, here is the completeBatish family team. . Without this togetherness none of this would be possible. Learn a bit more our goals, ambitions, our musical background, etc.
Learning Music of India
The Batish Institute Indian music activity started in the U.S. started around 1970. These music archives will direct you to our learning centers on the Internet where we have stored our music and arts information. New information is added daily. Please visit often and if you can, gives us a link from your site.