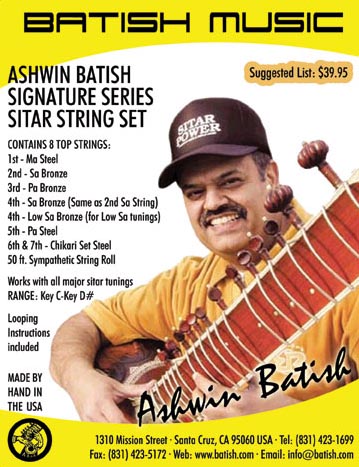 CONTAINS 8 TOP STRINGS:
1st - Ma Steel
2nd - Sa Bronze
3rd - Pa Bronze
4th - Sa Bronze (Same as 2nd Sa String)
4th - Low Sa Bronze (for Low Sa tunings)
5th - Pa Steel
6th & 7th - Chikari Set Steel
50 ft. Sympathetic String Roll

Works with most major sitar tuning styles
RANGE: Key C-Key D#
or call 1-800-RAG-MALA
We accept


Ashwin Batish Signature Series
Sitar String Set!
We are very excited to announce the release of the Ashiwn Batish Signature Series Sitar Strings Set. This is one of the best collection of quality strings and gauges designed to give your sitar the best possible sound tone and the assurance that these strings are the same ones that adorn the sitars of Ashwin Batish. They are what you hear on his recording and his concerts.
Let's seperate the men from the boys :)
There are a few very important issues about our set that sets it apart from the other sets out there:

There can potentially be a number of variations in string material, quality, and gauges. Experiment might be required to find the perfect gauge, for a certain tuning range. Certain manufacturer of raw strings simply make better quality strings than others. Then there are a lot of wannabe sitar string officiandos that have links to various sources. They have almost no knowledge of playing a sitar and are simply trying to market a product by doing a little research and then just copying and duplicating what they hear. This is good for them but bad for you. All this can only spell trouble. If the gauges on your sitar are too thin this results in the tone bring soft, tinny, and weak. If the gauges are too thick it can result in potential stress on your hands, harsh tones, breakage of a sitar component. I have seen sitar string anchors ripped out due to too much tension. It can also lead to the tuning pegs slippage and warping in the main frame. More that this bad strings can kill your enthusiasm for playing this gorgeous instrument!

But all this can get very confusing for the someone simply wanting to play his sitar. So, let us go over what we do to make your life simple.
All Sets are not created equal!
Our string gauges and quality are the best to keep you and your sitar sounding its best! Ashwin has researched this over the last 35 years of having played the sitar. He has tried every string gauge possible to see what works.
This set is designed to work with most of the major sitar tuning styles. Ashwin Batish, Ravi Shankar, Vilayat Khan etc.,
It is hand made in the USA by Batish Institute!
We include extensive looping instructions
Almost every string is individually packaged in a ziplock bag with a moisture absorbant paper insert to keep the strings fresh.
A large 50 foot roll of sympathetic strings is included with the set. This gives you a extra string lengths that can be very handy as these strings are the ones that break most often due to their delicate gauge. When strung and tuned properly, they last a long time.
Did we say that each set is personally checked and approved by Ashwin? That's correct! We only make 50 sets at a time and when we do Ashwin is right there making sure it goes according to specs. So buy with confidence!
Special Note:
We highly recommend you get a hold of a good quality electronic tuner with a tone generator. There are many guitar tuners out there that are no good for tuning a sitar. You need to have one that puts out a tone. A visual LCD is not recommended. Ashwin uses and recommends the Seiko tuner shown here.