Dilruba
"Dil" means heart and "rubha" means enchanter. "That which enchants the heart" is what this instrument is named after. It is truly a magical instrument. It is considered a mixture of two instruments the sitar and sarangi. It is bowed as the other hand slides all the necessary musical melodies with rich gamakas (ornamentations). Although it has a sitar type fret layout, the string is not pulled to give meend (glissando). As a matter of fact, the string rarely touches the frets as one plays.

It is said that the Dilruba was designed especially for women to play as both the sarangi and the sitar require substantial calluses and that can end up disfiguring your fingers.

To read more on this please check out my Dilruba Article - RagaNet Issue #5

This description is copyright ©2003 by Ashwin Batish. All rights reserved. Please do not copy, embed in another document, or display on another site. You are welcome to link to this page.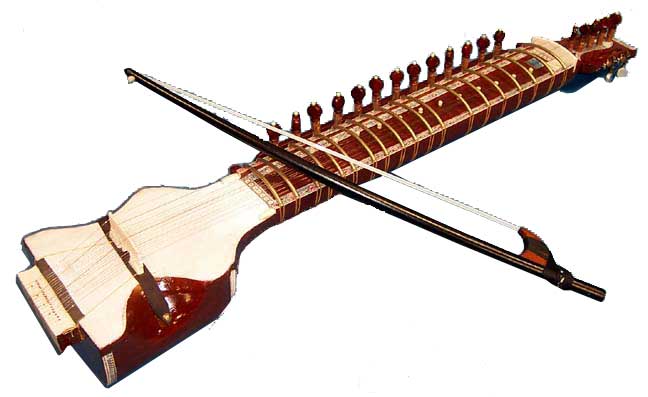 ( DLBA ) Dilruba - price $360.00 S&H extra
This rosewood instrument is inlaid front and back. 43" long, it has movable frets, is held upright in your lap and played with a bow like a small bass fiddle. Case is NOT included. Made in India
Shipping Weight: 30.00 lbs.

Dilruba Instruction Video Tutor - Price $49.95
by Ashwin Batish and S.D. Batish
We have volume 1 ready and are presently working on releasing the second one.

Dilruba String Set - $35.00
Includes 4 main strings and 1/4 pound sympathetic string roll
California residents please add 8% sales tax. Prices subject to change without notice. Please email us at info [at] batish.com for final shipping costs and availibility.