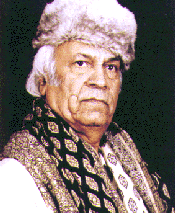 introduction |biography | lifesketch | letters | images | sounds |
Shalimar
Movie Length : - Year : 1946
Certificate No : Type : U
Movie Type : Black & White Era : Talkies
Production : Shorey Pictures
Genre : Social

Producer:
Actor : Chandra Mohan, Begum Para, Manorama, Nisar, Parmila and Manju.

Director :
Lyricist : Aziz Kashmiri
Male Singer: S. D. Batish ...
Female Singer: Zeenat Begum
Music Director : Pt. Amarnath - From FB: Pt. Amarnath/ Anupam Ghatak/ Lachchhiram

Songs:
Jaane Bhi Do: S.D. Batish and Zeenat Begum
Ye kiske khayal ne dil ko beqarar kiya'--- S.D. Batishji & Zeenat Beghum
Film--"Shalimar''----1946 ----Music --Pt. Amarnathji -- UNKA KHYAL CHHOD DE-ZEENAT BEGUM
KOI YUN DIL MEIN BASA JATA HAI- ZEENAT BEGUM


Facebook comments:

By Aditya Pant

Best known as a maker of comedy films, producer-director Roop K. Shorey signed up Aziz Kashmiri to write the lyrics of his film Himmat (1941) after hearing about his poetic prowess in the Punjab/Lahore circuit. Thus began an association that spanned around 11 Hindi/Punjabi films over 25 years. While they're best known for their partnership with music director Vinod (6 Hindi/Punjabi films including their biggest hit, Ek Thi Ladki), they worked with a host of other MDs as well e.g. Pt. Gobindram, Pt. Amarnath, Anupam Ghatak, Lachchhiram, Shyam Sundar and O. P Nayyar. My selection for today is a duet from Shalimar (1946), a film for which Roop Shorey wanted to sign-up his future wife Meena Shorey, but could not do so due to her contract with Sohrab Modi. The male singer is not credited, but sources mention it as S. D Batish (can someone confirm?). There were 3 MDs associated with this film, but I have no information about their individual contributions. Jaane Bhi Do - Shalimar (1946) - Zeenat Begum & S. D Batish (?) - Pt. Amarnath/ Anupam Ghatak/ Lachchhiram - Aziz Kashmiri
About the singers:
ZEENAT BEGUM
By Ameen:
Zeenat Begum was a kothewali (courtesan) and a renowned classical singer. She was discovered by Pandit Amar Nath circa 1937. Her first success as a playback singer came in 1942 when she sang for Govind Ram's Punjabi film Mangti. The film was marked as first Golden Jubilee film produced in Lahore. Her first Hindi film was Nishani (1942).She sang for other notable films including Panchhi (1944), Shalimar (1946), Shehar se Door (1946) and Daasi (1944). The last film she sang for in India was Mukhda (1951). She migrated to Pakistan and joined Lahore Radio station and worked there until late 50s. She died on 12 November 1966 in Lahore.
On the actors:
From Facebook:

Shah Niraj writes: Chandra Mohan Watal Great Hindi Actor
April 30
He was the original choice to play the lead role inK. Asif's Mughal-e-Azam, but due to his untimely death the film had to be reshot after ten reels were shot with him as lead. The film was eventually released in 1960.Chandra Mohan took to heavy gambling and drinking and died penniless on 2nd April 1949 at the age of 44 at his residence, Bilkha House, in Bombay.Filmography*.Amrit Manthan(1934)*.Dharmatma(1935)*.Amar Jyoti(1936)*.Jwala(1938)*.Pukar(1939)*.Geeta(1940)*.Bharosa(1940)*.Apna Ghar(1942)*.Roti(1942)*.Nauker(1943)*.Shakuntala(1943)*.Taqdeer(1943)*.Draupadi(1944)*.Mumtaz Mahal(1944)*.Raunaq(1944)*.Humayun(1945)*.Ramayani(1945)*.Shalimar(1946)*.Shaheed(1948)*.Rambaan(1948)
About the MDs
Pandit Lachhiram Lachhiram was born in Kuthar princely state of Himachal. His father was an employee in the court of Rana Saheb Jagjit Chandra. Lachhiram lost his father at a very young age, and was brought up and trained by the music lover Rana Saheb. He subsequently received training under the court musician Noore Khan. At the age of 20-21 he came to Delhi and got a job with HMV for whom he also sang many songs. He was discovered by Aziz Kashmiri, who had come to Delhi as an emissary of Shourie Pictures to look for a music director. Thus, his career in films started with Champa (1945), and continued in fits and starts till 1964, when it ended with the most successful film of his career, Main Suhagan Hun. Even though his songs of only a couple of films are well known, it appears he gave music for about twenty films as follows:

1. Champa (1945) with Anupam Ghatak
2. Badnami (1946) with Anupam Ghatak
3. Kahan Gaye (1946)
4. Khushnaseeb (1946) with Anupam Ghatak
5. Shalimar (1946) with Anupa Ghatak and Pt Amarnath
6. Arsi (1947) with Shyam Sundar
7. Director (1947)
8. Mohini (1947) with Bhai Lal
9. Birhan (1948)
10. Guru Dakshina (1950)
11. Madhubala (1950)
12. Maharani Jhansi (1952)
13. Ameer (1954)
14. Shaheed-e-Azam Bhagat Singh (1954)
15. Do Shahzade (1956)
16. Guru Ghantal (1956)
17. Hazar Pariyan (1959) with K Narayan Rao
18. Razia Sultana (1961)
19. Main Suhagan Hun (1964)
His early films are not very well known, even Ranjit Movietone's Dev Anand-Madhubala starrer Madhubala (1950) not doing much to his career.




---

copyright ©2002 Batish Institute. All rights reserved. Intended For Personal Use Only. No part of the information here may be reproduced or utilized in any form or by any means, electronic or mechanical, including photocopying and recording, or by any information and storage retrieval system, without specific written permission from the Batish family. All rights reserved. Intended For Personal Use Only.