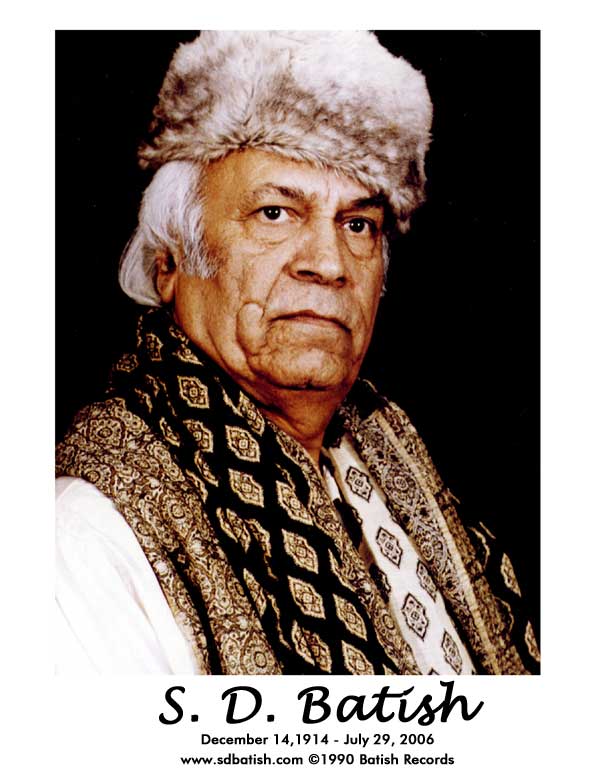 Sahara
Cast SD Narang , Renuka Devi , Sharda , Razia , Meena , Irshad Hashmi , Pran Banner Vasvani Art Productions
Director JP Advani
Genre Social
Released 1943
Lyric Swami Ramanand , Qamar Jalalabadi , Nazim Panipati, SM Sehrai
Music Gobindram

Songs:

Sabro Qarar Cheen Ke Ankhen Chura
introduction |biography | lifesketch | letters | images | sounds | filmography
Pandit Shiv Dayal Batish has been a stalwart on the Indian music scene since 1936. His songs have been broadcast from All India Radio nationwide. His old movies are regularly shown on Indian TV. He was a true master of the various vocal and instrumental styles of North Indian music, including Bhajans, Geet, Thumri, Ghazals, Film Sangeet, etc. Some of his outstanding films are Betab, Bahu Beti, Toofan, Harjeet, Tipu Sultan, Ham Bhi Kuch Kam Nahin, and Amar Keertan. His songs have been sung by such top artists as Lata Mangeshkar, Asha Bhonsle, Talat Mahmood, Mohamad Rafi, Sudha Malhotra, Manna Dey, and Geeta Dutt. Some of his all time hit songs are, Pagadi Sambhal Jatta, Khamosh Nigahen, and Aakhen Kehe Gayi Dil Ki Baat.
In 1970 Pandit Shiv Dayal Batish moved to California, USA to teach music at the University of California, Santa Cruz. He loved this area and decided to make it his home. He wrote some of his greatest works here. Books to teach North Indian music, compositions on over 2200 Carnatic ragas and over 700 North Indian ragas, Instructional videos to teach the harmonium, vichitra veena, dilruba are just a few of the releases. He and his son Shri Ashwin Batish, also formed the Batish Institute of Indian music and Fine Arts - an educational Institute to teach Panditji's music and to further the cause of Indian music and culture in the Monterey Bay area.
Today his family is working hard on releasing all his works to the general public.
Please help us make his web site great by mailing us any old photos or records, mp3s etc of my father so that I can add them here. You can check out his Indian filmi movies via the filmography link. Kind Regards, Ashwin Batish
Here is a playlist I've collected of all my father's Youtube clips.
All music is registered with ASCAP and is copyright ©2009 Batish Records. 1310 Mission Street, Santa Cruz, CA 95060 USA. This music is provided for personal listening live over the web only. Any copying of this material be it on to a CD, DVD, Cassette, video or by any other means electronic or otherwise is a violation of the law and is strictly prohibited. All written content is copyright ©2009 Batish Institute. All rights reserved. Intended For Personal Use Only. No part of the information here may be reproduced or utilized in any form or by any means, electronic or mechanical, including photocopying and recording, or by any information and storage retrieval system, without specific written permission from the Batish family. www.batish.com