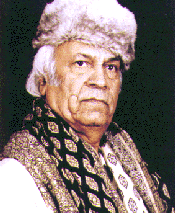 introduction |biography | lifesketch | letters | images | sounds |
Naataa
Movie Length: Year : 1955
Type: U
Movie Type: Black & White Era : Talkies
Production: Sushil Pictures
Genre: Social
Actor: Madhubala, Abhi Bhattacharya
Actress:
Director:
Lyricist: Tanveer Nakvi
Female Singer: lata Mangeshkar, Sudha Malhotra, Shamshad Begum
Male Singer: Mohd. Rafi, S. D. Batish, S. Balbir
Music Director: S Mohinder, K Inderjeet Sinha


Songs:
sun sakhi ri tera jal chuka aashiyaa aasara chod de Lata Mangeshkar
mat samjho neer bahati hoo mein jalte jal ki boondo se Lata Mangeshkar
suno suno ik nayi kahani ek thi roop nagar ki rani Mohammed Rafi
more salane kanha gaana gurali pe o gaana Lata Mangeshkar, Sudha Malhotra
ik muddat se diwana dil khushiyo ka zamana bhool gaya Mohammed Rafi, S D Batish, Sathi
ghadke-2 rah-2 ke dil baawra bhigi-2 rut hey mausam saamvara Mohammed Rafi, Lata Mangeshkar, Shamshad Begum, S Balbir, Sathi
jawani jhoolti hey aashiki jhoola jhulati hey kadam phoolo pe Lata Mangeshkar, lyrics Kaifi Azmi
ghir-2 chaayi mast ghataye door papiha bole ude chunariya Lata Mangeshkar, Sudha Malhotra
lagan lagi hey sajan a milan ki badati jaaye lai ghadkan ki Lata Mangeshkar,
is bewafa haga ka dastoor hey purana jalte rahe nasheman Lata Mangeshkar
dekhte-2 jal gaya aashiya kya sunaaye tujhe pyaar ki daastaa Lata Mangeshkar



---

copyright ©2002 Batish Institute. All rights reserved. Intended For Personal Use Only. No part of the information here may be reproduced or utilized in any form or by any means, electronic or mechanical, including photocopying and recording, or by any information and storage retrieval system, without specific written permission from the Batish family. All rights reserved. Intended For Personal Use Only.