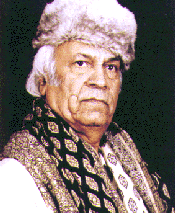 introduction |biography | lifesketch | letters | images | sounds |
KUNDAN
Movie Length : - Year : 1955
Certificate No : Type : U
Movie Type : Black & White Era : Talkies
Production : Minerva Movietone
Genre : Classics

Actor : Om Prakash, Sohrab Modi, Sunil Dutt, Ullhas
Actress : Manorama, Nimmi, Roopmala
Child Artist : Naaz
Director : Sohrab Modi
Female Singer : Geeta Dutt, Lata Mangeshkar , Mubarak Begum, Sudha Malhotra
Lyricist : Shakeel Badayumi
Male Singer : Manna Dey, Md. Rafi, S. D. Batish
Music Director : Gulam Mohd.


Songs:
Aao Hamaare Hotel Mein Chaay Piyo Ji Garam
Hosh Mein Aao Murakh Bande
Jahaan Wale Hamin Duniya Mein Kyon Paida Kiya Toone
Matwaale O Matwaale Nainon Ke Teer Kha Le
Mera Bhola Balam Dil Ki Batiyaan Ho Ram
Meri Aankhon Ke Taare Dil Ke Sahaare
Meri Jaan Gair Ko Tum Paan Khilaaya
Naujawaanon Naujawaanon Bharat Ki Taqdeer
Shikaayat Kya Karoon Dono Taraf Gam Ka Fasaana
Yah Bahaaron Ke Din Yah Suhaana Samaan

Awards : Filmfare - Best Supporting Actor Nominee - 1956
Filmfare - Best Director Nominee - 1955




---

copyright ©2002 Batish Institute. All rights reserved. Intended For Personal Use Only. No part of the information here may be reproduced or utilized in any form or by any means, electronic or mechanical, including photocopying and recording, or by any information and storage retrieval system, without specific written permission from the Batish family. All rights reserved. Intended For Personal Use Only.