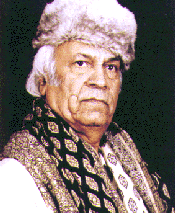 introduction |biography | lifesketch | letters | images | sounds |
HAMAARI MANZIL
Movie Length : - Year : 1949,.
Certificate No : Type : U .
Movie Type : Black & White Era : Talkies .
produced by: Famous Pictures Limited, Bombay / Mmumbai,.
Genre : Social .
director-o.p.dutta,.
music-husnlal bhagatram,.
cast-nirupa roy,prem adeeb,gope,yashodhara katju,badriprasad,faizi,gyani,,randheer,raj mehra,mishra,niranjan sharma..
lyricist-qamar jalalabadi,rajendra krishan,.

Songs:
1] Nainon Se Nain Milaker - Geeta Roy
2] Tere Aane Par Dil Ddhadke - Geeta Roy
3] Aandhere Se Na Dar....Kaante Banenge Kaliyaan - S. D. Batish, Geeta, and Rafi
4] Baithi Hoon Mein Nain Bichaye - Geeta Roy
5] Badla Hua Duniyaa Mein...Woh Aur Zamanaa thaa - S. D. Batish, Geeta, Rafi,
6] Baabuji Jaldi Jaagiye - S. D. Batish, Shamshad Begum
7] Sajan Se Bichadker Dil Ne Kaha - Geeta Roy
8] Toote Hue Dil Ko Ulfat Ka Bas Itna Fasaanaa Yaad Raha - Rafi.
Actor : K. N. Singh, Kanhaiyalal, Prithviraj Kapoor Actress : Cuckoo, Ragini Director : Jagdish Sethi Female Singer : Asha Bhosale, Geeta Dutt, Shamshad Begum Lyricist : Balwant Kapoor, D. N. Madhok, Saba Afgani, Sahara, Sajan Bihari Male Singer : S. D. Batish Music Director : B. N. Bali Songs:



---

copyright ©2002 Batish Institute. All rights reserved. Intended For Personal Use Only. No part of the information here may be reproduced or utilized in any form or by any means, electronic or mechanical, including photocopying and recording, or by any information and storage retrieval system, without specific written permission from the Batish family. All rights reserved. Intended For Personal Use Only.