Ragmala TV Live
Click here for the Batish Records Catalog
Ragmala Radio Live
Press arrow to listen to live streaming broadcast by the Batish Institute of Indian Music and Fine Arts email info@batish.com or call 1-800-RAG-MALA. International (831) 423-1699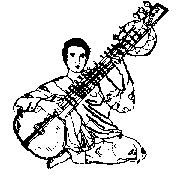 Batish Brings Back The Sitar
---
By Steve Morse
Boston Globe
The Sitar, an Indian instrument popularized by Ravi Shankar and the Beatles' George Harrison in the lave '60s, has gone out of fashion. "In India today, you can count the number of sitar players on your finger tips."says Ashwin Batish. "Young kids don't want to play the sitar anymore It's too difficult. They want to play guitar or synthesizer."
Batish hopes to revive interest in the sitar - an exotic, beautiful-sounding instrument with 18 strings, curved metal frets and oversized tuning pegs. Veering from the instrument's classical tradition, he has merged sitar leads with modern dance rhythms on his creative new album, "Sitar Power," part of Shanachie Records highly regarded World Beat/Ethno-pop series.
Batish, who plays tonight at Johnny D's in Somerville, of all places, is the son of S.D. Batish, a famed Indian composer who taught George Harrison the dilrubha (a cello-like instrument). This instrument can be heard on the sound track of the Beatles' film "Help."
The younger Batish, who was born in Bombay and now lives in Santa Cruz, Calif., came to his new sitar fusion style by accident. For years he adhered to the sitar's classical tradition and recorded two albums in that mold - one with his father on tablas (Indian had drums); the other with Zakir Hussain, son of Ravi Shankar's tabla player, Alla Rakha, who starred with Shankar in the "Monterey pop" concert film.
Then came a fateful trip to a Santa Cruz music store in 1986. "There I saw a bunch of these thin thin keyboards," he says meaning synthesizers. "The salesman showed how they could make sounds like a violin and a guitar. Then I went over to a little box where an 8-to-10-year-old boy was standing in front of it picking out all these rhythms. 'How can he do this, I thought. So I asked, "How much is this and how much is that?" Pretty soon I was in a hole about $10,000. I bought an eight-track, a Yamaha DX9 and a drum machine. Dad thought I had gone crazy."
A week later, Batish had come up with the song, "Bombay Boogie" which came out as a 7-inch single and was a hit at college radio stations. Next was the LP, "Sitar Power," which is pretty much a one-man-band operation (he'll also play alone tonight with backing tapes) and includes such hopped-up tracks as "Casbah Shuffle," "New Delhi Vice" and "Raga Rock".
Tonight's appearance will start with a classical set, then move to a fusion set. "I just want to show what the sitar can do." Batish concludes in a recent phone interview "It doesn't always have to have a meditational feel. It can work with bop and dance rhythms, also."
---
©1989 Boston Globe. Printed by permission.
---
Footnote:
1. Sitar Power is no longer being distributed by Shanachie Records. Its distribution is now being handled by Batish Records, 1310 Mission Street, Santa Cruz, CA 95060, USA. (831) 423-1699. www.batish.com
---
email: info [at] batish.com
copyright ©1995 - 2009 Batish Institute. All rights reserved. Intended For Personal Use Only. No part of the information here may be reproduced or utilized in any form or by any means, electronic or mechanical, including photocopying and recording, or by any information and storage retrieval system, without specific written permission from the Batish family.