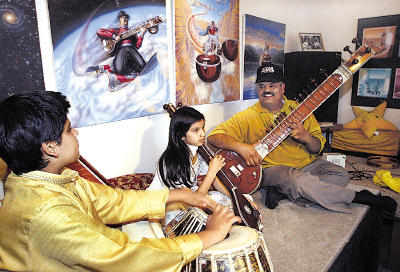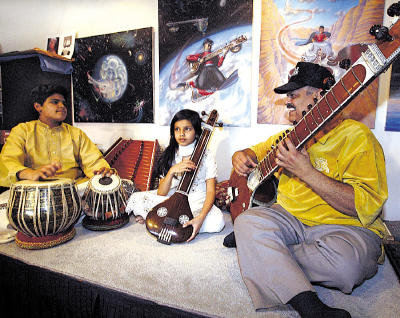 Ashwin Batish - Sitar, Keshav Batish - Tabla & Santoor
In Concert at Don Quixote, Felton - Santa Cruz Sentinel Feature
by Wallace Baine - 05/27/2010
---
By WALLACE BAINE Posted: 05/27/2010 01:30:09 AM PDT

fifty years ago, as a young boy, Ashwin Batish sat at his father's knee and learned how to play music, a practice that eventually defined his life. Now, Batish finds himself engaged in the same kind of precious family guidance "" only this time, he's the teacher instead of the pupil.

Tonight, Batish will take the stage with his 12-year-old son Keshav, in what will be Keshav's first formal concert appearance at Don Quixote's in Felton. The boy is the latest arrival in the Batish family musical legacy and his rapid development and interest in music has his father experiencing a poignant sense of déja vu.

"It's uncanny, really," said Ashwin Batish, 58, the well-known Santa Cruz sitar virtuoso and teacher. "It's almost like the roles are switched. I'm sitting where my father used to sit. Keshav's sitting where I used to sit. And my father knew it, too."

Ashwin's father was the great Indian composer S.D. Batish, a commanding presence in Indian classical music in the mid-20th century as a composer and a Bollywood musical director. The elder Batish is perhaps best known among Western pop-music fans for his association with the Beatles' George Harrison in the 1960s. He moved to Santa Cruz in the early 1970s, bringing his family along.

S.D. Batish lived long enough -- he died in the summer of 2006 at the age of 91 -- to see family history repeat itself with his son and grandson. Two weeks before his grandfather died, Keshav idly picked up a drum and Advertisement began to play. Amazed at the boy's prowess, Ashwin took him aside and told him to play for his grandfather.

"My dad heard him play and said to me, Hey, I think you have someone to keep you company,'" said Ashwin. "And that was such a joy for me to hear from my father."

Ashwin Batish has put together an impressive career in his own right. As a musician and sitarist, he excelled early under his father's tutelage in both Indian classical music traditions -- the North Indian style and the Carnatic style. But due largely to moving to Britain, and later the U.S. as a young man, Ashwin embraced Western styles and pushed boldly in the direction of fusion, becoming a pioneer in bringing Indian sitar music into jazz, funk, rock and soul idioms.

As a teacher, Batish has overseen a mini-empire in Santa Cruz he calls "Sitar Power" "" The "Sitar Power" ballcap is Ashwin's trademark look around town "" and has deftly used the Internet to spread the gospel of the sitar as a distinctly Indian-American instrument. Batish's 1987 album, also called "Sitar Power," is still recognized as a cult classic all over the world.

However much Ashwin veered away from his father's more traditional training, he has been resolute in keeping his father's music alive. He has collected scores of recordings and manuscripts of his father's work, and his Internet savvy has allowed him to establish a streaming online radio station playing his father's recordings as well as other Indian music, discussions on the sitar, tabla and other Indian instruments and instruction in Indian music www.ragmala.com.

As for his 12-year-old son, now a seventh-grader at Pacific Collegiate School in Santa Cruz, Keshav has two well-worn paths to follow.

"Keshav was an explosive talent, like somebody coming out of a cocoon," said the boy's father. "He was like somebody just waiting to be born. Then when he's out, he's ready to fly."

Keshav grew up in and around his father's Mission Street studio, surrounded by the sitar, the tabla and the santoor, along with more Western instruments. At about age 7, he began picking up the instruments and playing them. Even though, at age 12, Keshav has yet to pick a primary instrument -- he'll be playing tabla tonight in Felton -- Ashwin can see the arc of the boy's development.

The father is also crediting the son for giving him the energy to continue to follow his muse as a musician when his inclination is to follow his teaching and his online work.

"Literally, I'm doing this now for him," said Ashwin Batish. "He is instrumental in getting me up and rehearsed, and getting my callouses back. He's constantly saying Dad, come play with me.'

"It's a really kind of mirror thing. I was doing the same thing as he's doing now. I was tuning my father's instruments. I was playing the santoor. I can really see myself in him."
---
©2010 Santa Cruz Sentinel. Used by permission.

Visit our home pages at
Batish.com | RagaNet.com | Ashwin Batish