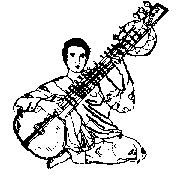 Ashwin Batish - Sitar Player's Three Lifetimes
---
by a Sentinel Staff Writer
In India there is a saying that it takes three lifetimes to learn to play the sitar. Ashwin Batish says he doesn't know which liftime he's in - but the mythology that has developed around the distinctive toned instrument also says the three lifetimes can be compressed into one; the first 30 years are spent learning, the second 30 are spent performing and the third 30 are spent teaching.
That puts the likable young Indian maestro in the earliest stages of what should be an auspicious performing career.
Ashwin will perform, and, along with the rest of his family will act as, host for a two-evening North Indian Classical Music and Food Festival Sept. 10 and 13 at 8:30 p.m. at the First Congregational Church, 900 High St.
The food portion of the festival will be provided at Batish India House Restaurant, with gourmet dinners preceding the two concerts from 4-8 p.m.
The festival, presented in cooperation with India's Sangeet Research Academy, will feature some of the finest musicians of this unique classical form. The opening concert Sept. 10 will present violinist V.G.Jog, vocalist Malabika Kanan and flutist Hariprasad Chaurasia, while the Sept. 13 bill features Ashwin Batish on sitar, Ajoy Chakraborty on vocals and Shiv Kumar Sharma on santoor. Each of the soloists will present a long set, with tabla accompaniment by Zakir Hussain and Sham Kane.
While Western ears tend to lump all Indian music together, Batish points out that the classical music of the North differs from that of the rest of the country.
"The North was most prone to outsiders coming in. It was where all the mingling happened,"he says. The harbors made it a trade center, but when the merchants of Persia, Greece, Spain, England and the Muslim countries arrived, they brought their music with them.
The result was plenty of musical diversity. Batish points out that in one mountain region of Indian, there's even the equivalent of country and Western music in the U.S. The different influences provide other sorts of links as well.
The ragas came about from other peoples,"he explains. "If I weren't a musician, I wouldn't have any ties to these people - but the music ties me to them."
Ashwin is the son of Shiv Dayal Batish, an accomplished vocalist, musician and composer for the Indian film industry, who came to Santa Cruz in the mid-'60s to teach music at UCSC. With his wife Shanta, the elder Batish found that the family kept having unexpected guests for dinner.
"At first they were cooking for themselves, but people kept coming by," recalls Ashwin. The family opened a small restaurant on Mission Street, "and after that the food idea just clicked. So here we are in the food business," he adds with a laugh.
The family moved the restaurant across Mission Street to its present location shortly afterwards. Besides the restaurant with a stage covered with exotic instruments, the Batish India House complex also houses a recording studio (where Ashwin also videotapes his regular programs for Capitola Community Channel 8), as well as family living quarters.
Ashwin has performed in the restaurant - on the stage under a painting of music goddess Saraswati - for six years. He attributes his musical "blossoming" to his contact with audience on an on going basis.
"I feel that every musician should have an audience," he says.
His own Western audiences are fascinated with the exotic instruments - "People will stare at them for hours" - as well as with the controlled frenzy of the musician, reports Ashwin. During his performing career (which is now being interrupted by his college career in San Jose), he was known to have grabbed his audience's attention by sneaking Beatles tunes like "Hey Jude" or "Penny Lane," or perhaps the Scottish National Anthem into his more standard sitar repertoire.
"People in the restaurant would turn around and say what was that?" he recalls with his ready smile.
In India, in years and centuries gone by, musical instruction was closely tied to religion.
"If one wanted to learn music, he had to go to the temple and become a diciple of a guru," says Batish. "Religion was taught through music. Now, in universities, it's possible for anyone to learn."
The process of musical instruction also entailed the development of "listening knowledge before playing. In the past students couldn't even touch the instrument for four to five years."
Ashwin sees parallels between that situation and his own exposure to music at the feet of his father, whom he describes as 'such a high energy person.' "When I decided to play," he goes on "it was just a matter of getting my hands moving. My brain was already moving."
The appeal of Indian music for Western listeners, says Batish, is that it "has enchantment - it's hypnotic. Basically it's meditation - it puts you in another world. If people are listening, you can take them on a journey with you. Listeners go to a concert in order to experience that."
Indian music emphasizes melody rather than harmony. Batish continues, likening it to "abstract art, where the colors that are portrayed spring out at you."
Ashwin is intent on learning his ancient art, saying, "you have to listen to others to hear what they have learned from their teachers - you have to see the way their brains work in order to see how your own brain works."But he also has a more modern interest "in putting Eastern and Western musics together."
Ashwin teaches what he calls an "Indo-Jazz Workshop," in which students learn Indian techniques on instruments ranging from violins and clarinets to guitars and trombones ("well, the trombone was too loud, actually,") and he speaks excitedly of creating new orchestrations.
"My goal,"he says, "is to train people on their own instruments and to orchestrate totally with Western instruments, so that people listening won't even realize that they're hearing Indian music."
---
©1981, Santa Cruz Sentinel. Printed by permission.
---
Footnote:
1. Batish Indian House closed down in 1988. But we are presently writing a cookbook and producing videos on how to cook the delicious foods of India! Check out some sample recipies on Cooking with Mama Batish page!
---
email: info [at] batish.com
copyright ©1995 - 2009 Batish Institute. All rights reserved. Intended For Personal Use Only. No part of the information here may be reproduced or utilized in any form or by any means, electronic or mechanical, including photocopying and recording, or by any information and storage retrieval system, without specific written permission from the Batish family.